New Business Sparks Into Life – With Some Help From Seta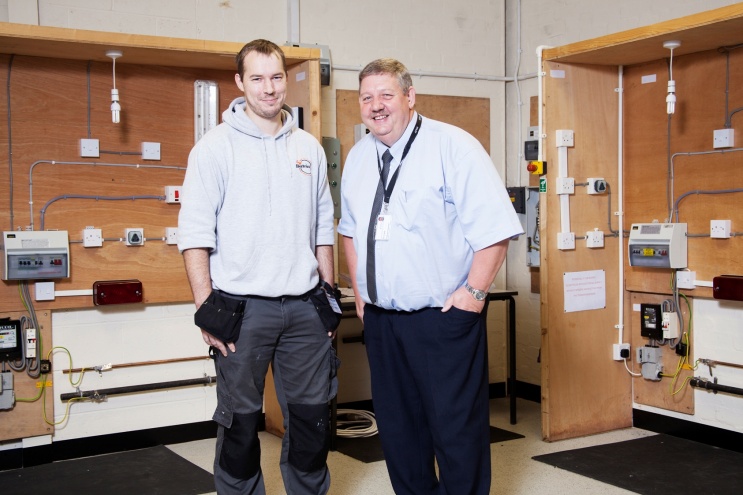 A Darlington man has bounced back from unemployment to follow his dreams of running his own electrical business.
Chris Woods launched CW Electrics after undertaking a range of electrical engineering courses at Seta.
He decided to pursue his interest in becoming an electrician after losing his job in the retail sector, where he had worked for many years – and was supported in his new career path by Department of Work and Pensions funding accessed through his local JobCentre Plus, which paid for him to undertake a range of electrical engineering courses at Seta.
Having passed these courses this summer – which included City & Guilds qualifications in Periodic Inspection and Testing, 17th Edition IET Wiring Regulations and Building Regulations for Electrical Installations in Dwellings – Chris founded CW Electrics, and he is now carrying out electrical work for both domestic and commercial clients across the North East.
He recently gained an additional qualification, having passed a Combined City & Guilds Electrical Inspection and Testing course at Seta, and is now undertaking work as a subcontractor for both an insurance company and a business with domestic and commercial customers in the region.
Chris Woods of CW Electrics said: "Without Seta I would never been able to do what I am doing now – and do a job that I enjoy. I've always wanted to work for myself.
"The staff at Seta were very flexible and accommodating, and I didn't feel that I was 'thrown in at the deep end' during the training. They were very helpful and Dave Hall, my training instructor, has an encyclopaedic knowledge and a huge amount of industry experience.
"In the workshops, we worked with both brand new equipment, which was up to current standards, and also older equipment: this gave me valuable practical experience. In 'real life scenarios', customers may not have the most up-to-date electrical equipment, so training with Seta has helped me to overcome the challenges this poses.
"Seta also helped me to choose the courses which are directly relevant to my business and recommended courses which would create a smoother learning path and make it easier to progress. And each course I've undertaken has helped me to broaden the range of services I can offer my customers."
Robin Lockwood, chief executive of Seta, added: "It's fantastic to see Chris put the knowledge and hands-on experience he has gained at Seta to use in his own business, and we're delighted to have helped him follow his new career path and launch CW Electrics.
"Our courses can help benefit businesses from sole traders, like Chris, to multinationals who want to upskill and cross-skill their entire workforces. Electrical engineering – like other engineering disciplines – provides an exciting career and skilled engineers are much needed across the North East and the wider UK."
Pictured above, left to right: Chris Woods and Seta training instructor Dave Hall.